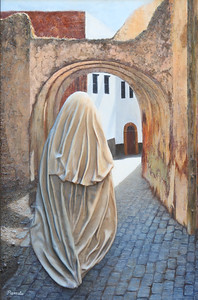 Passage
SKU:
Description
Medium: Oil Over Relief
Size: 20" x 30"
Frame: 1" Grey/Brown Rustic

All Sales Final
"This was inspired by a trip to Morocco. It was an opportunity to try the relief technique, which was done with fabric impregnated with Durham's putty mixed with acid free PVA glue and coated with gesso. The rest of the painting was done with palette knife and brush."
Please share this painting!